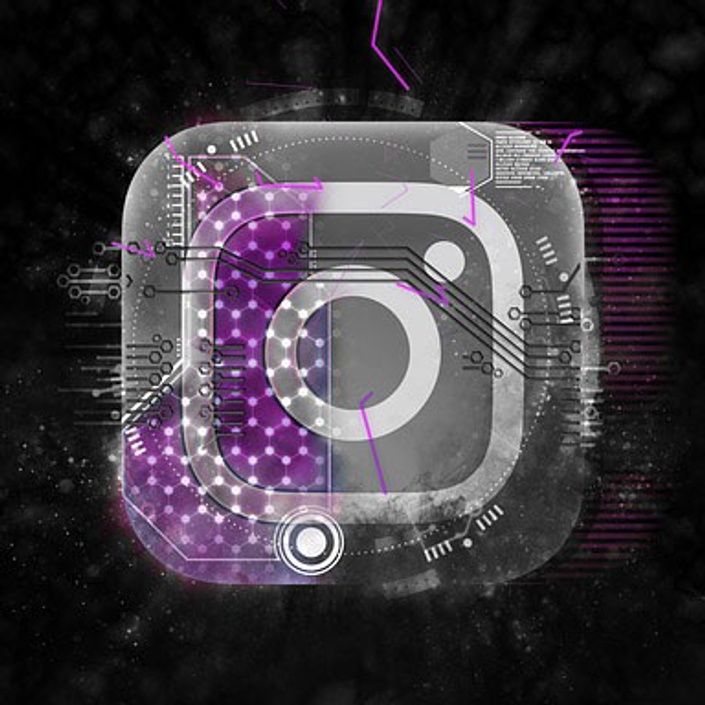 FOLLOWERS BLUEPRINT - INSTAGRAM SUPERCHARGED
Shortcut To Growing Your Instagram Accounts Fast
What is Followers Blueprint?
It is NOT just another "how to" course on becoming an Instagram Influencer - yet you will grow to influencer status faster with it than without.
It is NOT about getting more followers easier - yet these secrets will help you to get exponentially MORE followers than you've ever had before.
It is NOT about increasing your bank account- yet these secrets can help increase your cash MORE than a lifetime of likes, posts, or follows ever could.

Followers Blueprint is A SHORTCUT.
Lack of followers is a symptom of a much greater problem that's hard to see (that's the bad news), but really simple and easy to fix (that's the good news).
When you join Followers Blueprint you'll find the actual techniques that have been proven to work over and over again across thousands of thousands of instagram accounts. You now have access to all of the techniques, insights, and secrets that I've used to explode my instagram following practically overnight!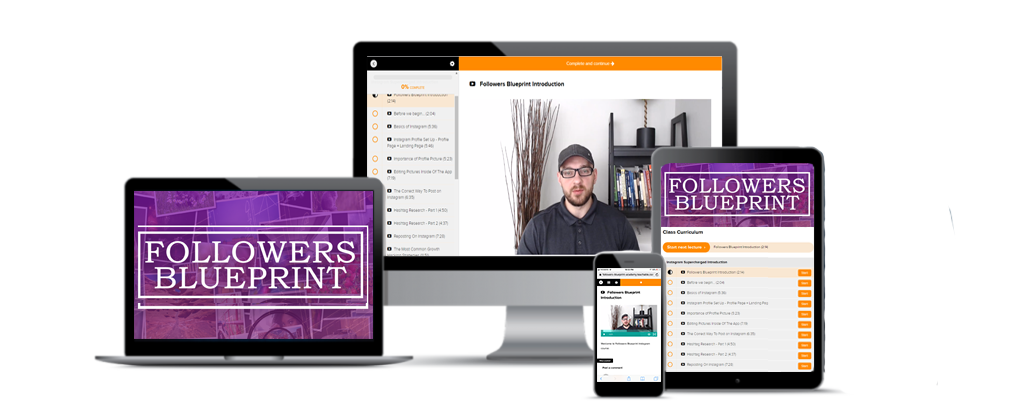 Inside Of This Course, Here Are A Few Of The Secrets That You'll Be Given For FREE...
Looking to "grind out" the Instagram game? DON'T! Take this course instead and you'll discover how to beat any hustle you could ever hope to sustain in the long run... - Module 7
The FIRST thing I tell all of my brand new students to get them generating instant followers... PLUS: You'll get to peak behind the scenes to find out what I taught one student when he started spinning his wheels (HINT: It flies in the face of what everybody else is doing...) - Module 8
How one simple step before I post has generated me 100X as many followers... and led to my single greatest discovery on posting... Module 10
The "predictable" method that successful influencers have been secretly using for YEARS to get tons of followers through this tiny little tweak… (It not only works BUT it's exactly what the Internet was built for!) - Module 7
The major details that have made getting followers online EASIER. FASTER. AND BETTER THAN EVER! PLUS: Discover my 'secret' approach to doubling followers with half the effort and much less time than you've ever spent on regular growth... - Module 11
My approach to solving the Instagram Followers puzzle... and discover the fundamental difference between a 1,000 follower account and a 1,000,000 follower account... (HINT: It has to do with the "mix" you use in your account...) - Module 12
My 'secret' photo-of-a-photo technique that I use to turn miserable posts into follower super-magnets... (SIDENOTE: I almost never shared this with anyone because it is SO powerful! You get it instantly when you sign up for this low cost course.) - Module 15
How to get MORE followers for your post by thinking about your post BACKWARDS with this one simple question... you are going to LOVE this one simple reversal to start upping those followers! - Module 9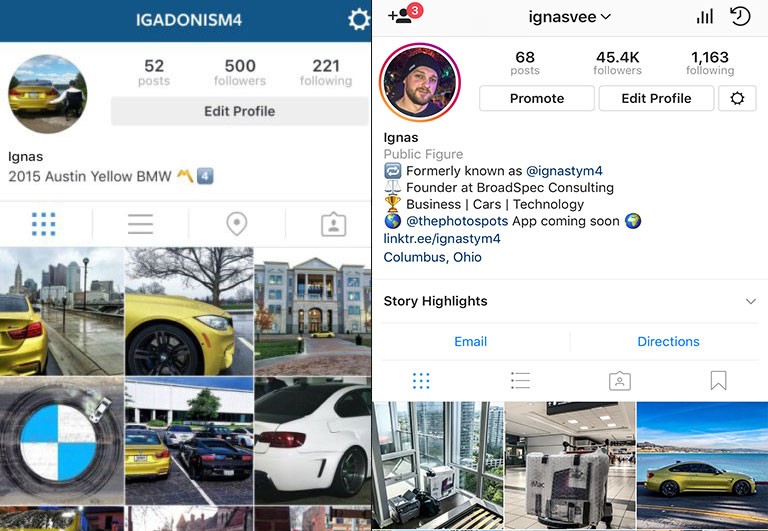 *For the best results your account needs to be at least 2 months old, otherwise it will be on Instagram's "We don't trust you yet" list which will shadowban it much harder than older accounts.

To be honest, I was ready to shut this account down. My partner and I were stuck at 75K followers and even started to lose followers at some point. Our old strategies that got us there, simply stopped working. I messaged Ignas to say farewell, and he called told me to snap out of it and that I should get to growing. His coaching and this course had opened my eyes to Instagram, I've never looked at it the same way as I did before. Now 2 months later, we went from losing followers to gaining on average 5000 new ones a month. On the right track to hit 150K this year!
- Stephan, @bmwwithoutlimits

I first signed up for this course because of the reputation that Ignas has built with us while coaching our whole marketing team on Instagram. I'm pretty shocked that he is charging so little for how much value he provides! Needless to say we paid way more to get in-person training. Our biggest growth happened after we kept implementing Ignas' strategies on making viral posts. We went from 5k followers to 82k followers in a matter of two months!
- John Kast, Co-Founder, @paradisefibers

Simply Amazing! This course is meant from anyone experienced to a complete newbie. As long as you are ready to take action, Ignas will guide you through with real time results and strategies that actually work. He covers such things that you wouldn't even think about before taking this course. Now grab a pen and paper and get ready to learn some crazy stuff!
- Ben Tabai, Co-Founder, @Amaryllis_Apparel

Ignas has perfected the art of social influencing and marketing. This course was essential in building my Instagram page to where it is today! I would highly recommend to anyone trying to improve their social media presence.
- Nick Ray, @q60rs
Your Instructor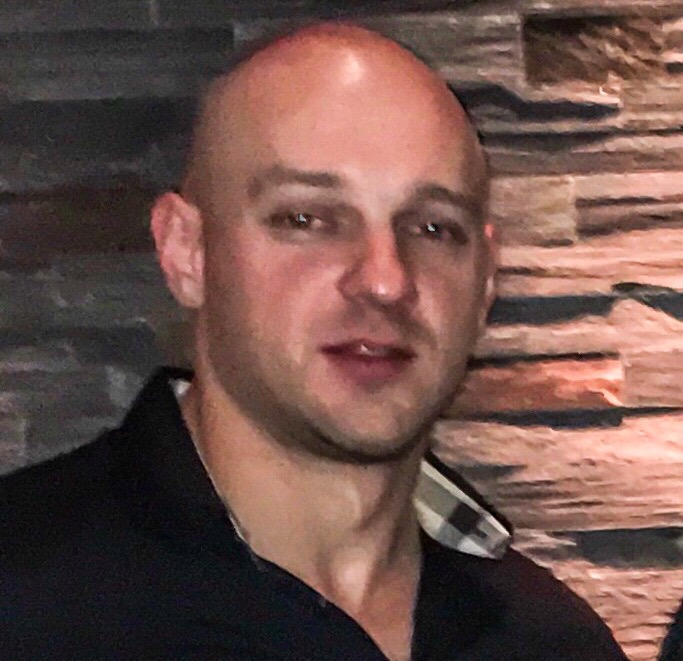 My name is Ignas.
I am a founder of BroadSpec Consulting, a digital marketing agency as well as an author of "Followers Blueprint" book. My expertise are predominately in Social Media Marketing and Web Development.
What started as a friendly competition with my neighbor on who will get to 1000 followers on Instagram (@ignasvee), has developed into a passionate obsession with social media marketing. 1.5 short years later after blowing past my neighbor on Instagram, I kept getting contacted by companies to help them grow their Instagram accounts. That's when BroadSpec Consulting was born.
I love discovering and testing new strategies and winning against my competition. I have helped countless influencers and eCommerce stores to take their following to the next level.
Helping people and companies is just something in my nature. Sharing my knowledge and saving time and money for others is what I'm here for.
I would love to connect with you, so please do not hesitate and contact me!
- Ignas
Like I mentioned before, this course is only $27.
That will be like paying .000001 pennies per follower! You can't beat that!
Oh, and in case you're wondering...
There Is No Catch!
I know there are some courses out there that offer you the world on a plate, but then it's all hype on the front and all grype once you're in.
Now That's How I Roll!
There's NO catch - and in case you're wondering why I'm doing this…
Well, there are actually a few reasons...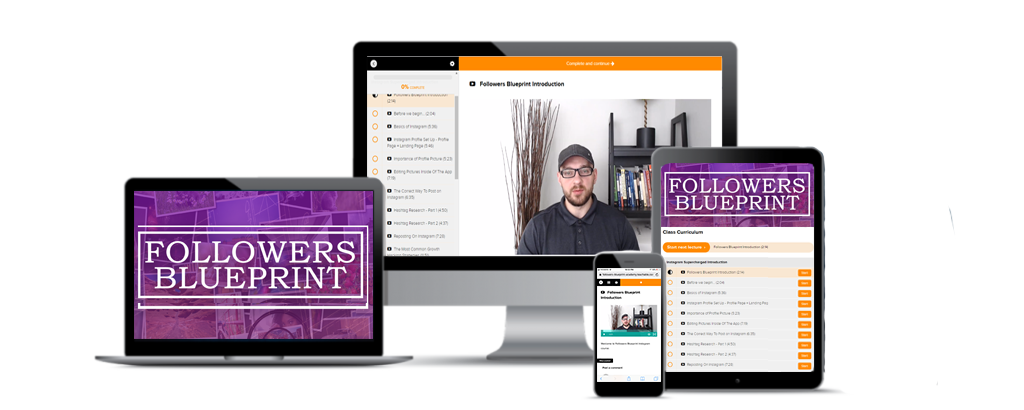 1. It's my way of giving back to the world. I believe we can all contribute something to make the world a better place, and this is one of the ways I want to live by an example.
2. Because (unlike other courses creators) I don't make all of my money on this course alone. I actually run real businesses with real capital investments, real employees, real sales, and very real business problems and profits! So because of that, it doesn't hurt me to keep the price low and share my best stuff.
3. I want to impress you so you'll buy from me again later on. When you see how awesome this course is, it should get you excited to buy other stuff from me in the future. That's pretty straightforward, and good for us both.

But You Gotta Hurry
Here's why...
Instagram changes its rules fast! What's working right now may not work in the next few days, weeks, or months.
Instagram could change the rules any minute, and they've done it many times before.
But right now, these strategies work 100%. So you have a chance to get in while the getting is good!
But this moment in time is very short! Don't let this window of opportunity close on you forever!
Here Is My "You've Gotta Be Crazy" Guarantee

I 100% guarantee that you'll love this course, or I'll return your total purchase and let you keep the course anyway.
That's right. You don't even have to give me a reason. Just email me and I'll give you back your money with no questions asked.
And you can keep the course.
Sound fair?
The Clock Is Ticking
So Get In Now Before Instagram Changes the Rules Again...
Thanks for taking the time to read this letter and I look forward to hearing from you soon!
P.S. In case you're one of those people (like me) who just skip to the end of the letter, here's the deal:
You're getting the Followers Blueprint course for only $27.
There's not catch... no gimmicks... no hype...and no grype...
If fact, if you don't love the course, for any reason at all, I'll even refund your entire purchase (and you can still access it for life, for free).
There's literally nothing to lose, and everything to gain.
So, Click the button below to get sign up now. You won't regret it.
Frequently Asked Questions
When does the course start and finish?
The course starts now and never ends! It is a completely self-paced online course - you decide when you start and when you finish.
How long do I have access to the course?
How does lifetime access sound? After enrolling, you have unlimited access to this course for as long as you like - across any and all devices you own.
What if I am unhappy with the course?
We would never want you to be unhappy! If you are unsatisfied with your purchase, contact us in the first 30 days and we will give you a full refund.